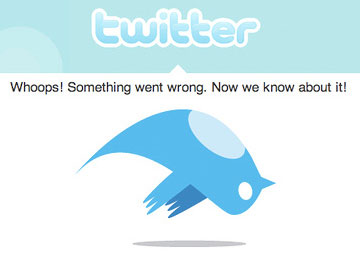 A very long time ago I ran a web-based email service (allow me to tell you about it one day). It was moderately successful and, before the latter unpleasantness it had well over a million users and substantial traffic and brand awareness. I learnt one really big lesson from that particular experience, though: never run an email service. It's a mug's game. The problem is that email is essential infrastructure.
For email users it's like dial-tone. Pick up the phone: if you don't hear dial-tone what do you do? Do you say: "Hey, no problem, I'll try later"? No. You say "what the fuck's wrong with the phone?" "Hey everybody! the phone's out!" "Shit. Did society collapse? Was there a nuclear bomb?" and so on. No one is sanguine or relaxed about a phone outage. Likewise with email. If clicking 'send' doesn't work first time or if you get no email at all for fifteen minutes you're pretty soon popping veins in your neck.
Phone networks and email systems have to be reliable. In the telecoms world they call it 'five nines'. They mean that a phone network has to up 99.999% of the time and they engineer their systems to deliver this. Email systems are now engineered to the same standards. And it's not cheap because the 80/20 rule applies.
Keeping your network up for 80% of the time costs about 20% of your systems budget—piece of cake. The difficult final 20% costs 80% of your budget (and it's actually probably more like 95/5). And that's before you've spent a quid dealing with the legion of bottom feeders firehosing your servers with spam. Like I said, it's a mug's game. And this explains why email provision is consolidating fast and why even big in-house systems are being outsourced to specialists.
Which brings me to Twitter. As you know, Twitter's clever for all sorts of reasons. I've gone on about Twitter here before: I think it's the most important application to appear on the Internet for years—possibly since the web itself. Seriously, I do. But it's especially clever because the Twitter experience has been engineered so that users aren't really bothered if it's not working. Even big users (I would count myself as a big user) can live without it for a few hours, even for a day or two.
Nobody uses Twitter for anything important and, although it supports direct messages between users, it's principally about the buzz of daily life—so even a longish period of extreme flakiness like the one we've just seen barely spoils the experience. Twitter's remarkable achievement is to be important enough to produce addiction but nowhere near important enough to produce a phone call to the complaints department. Twitter's a long way from five nines and it doesn't matter at all.